SenseView school television
One click from the Ziber Teamapp to the big screen With Ziber SenseView, a television screen in the hall or common room becomes a vibrant center of everything that is going on in your school. Useful information about upcoming activities, news from the website or nice photos from the last excursion. You can also make messages from social media and the reactions to them visible on the screen in a central place in the school.
You present your school beautifully and simply with SenseView. As a teacher, you can easily post a new message with the Ziber Teamapp, which is immediately visible on the display of the school.
Inform parents in the school
When is the school trip again? Do the children have a day off next week due to a study day? Parents and carers would like to stay informed! Inform parents via a display at the entrance or in the central hall of the school.
Also ideal in the teacher's room
How does the school ensure that teachers remain involved in the school? How do they know what is going on in the other groups? How can teachers stay connected with each other? SenseView offers the solution. With an interactive screen on which inspiring educational situations can be shared effortlessly.
Communicating with other schools or the foundation
The foundation to which the school is affiliated could also post messages on the SenseView screen in the school or teacher's room. This is made possible with Ziber Connect. For example, the foundation can bring a news item or activity to the attention of the teachers of all schools.
Easy to use, big on results
By importing the school's EDEXML file into the Ziber Teamapp, the birth dates of the children are stored in a secure environment. Due to this information, a happy birthday page automatically appears on the child's birthday on the screen of the school. Teachers no longer have any work to do with this and the children have an extra birthday on this special day. Parents can make the birthday page even more personal by adding a photo to their child's profile.
The extra option for the screen in your school is included free of charge when applying for SenseView.
The SenseView birthday calendar
A child who is almost birthday is counting down the days until his or her birthday. It is then extra special to be the center of attention on this special day. This new SenseView feature automatically creates a happy birthday page for every birthday child.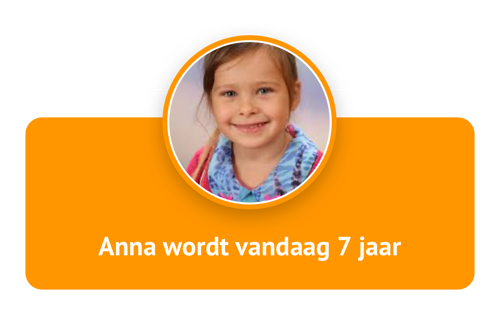 Celebrate every child on his or her birthday!
Advantages of having your own television channel
Informing parents on a display in the school
Promotes internal communication in the teachers' lounge
Easy to manage in Ziber
In the house style of the school
Extra options, such as the birthday page
Request SenseView for my school